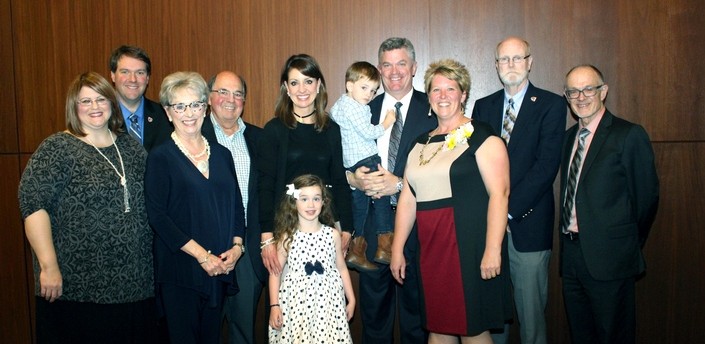 NAFP Member, Dr. Angela Brennen, honored with Koefoot Award
Thank you to UNMC for publishing the following copy. Original article found here: https://www.unmc.edu/news.cfm?match=22102
Passionate - inspiring - committed. This is how students described St. Paul family physician and University of Nebraska Medical Center graduate, Dr. Angela Brennan, while completing their third-year family medicine clerkship in a rural community.
"Dr. Brennan is a shining example of what a UNMC-trained, rural doctor ought to be in terms of a clinician, teacher, mentor, and community role model," said Sean Flor, a third-year medical student at UNMC who spent eight weeks with Dr. Brennan. It is the example set through teaching, mentorship, and as a community role model that earned Dr. Brennan the Marion D. and Theodore H. Koefoot, Jr., M.D. Outstanding Preceptor in Rural Family Medicine Award. She received the award on May 3 at the UNMC Family Medicine  annual awards banquet.
The Koefoot Award was created in 2005 in memory of Dr. Theodore Koefoot, who was a charter preceptor for UNMC's rural family medicine preceptorship. The award is granted to a rural Nebraska family physician who provides outstanding teaching and mentoring of medical students during their family medicine rural preceptorship and serves as an outstanding community physician. The award was established through a gift made to the University of Nebraska Foundation by Dr. Koefoot's wife, Marion, and his family, Gretchen and Nick Vondrak, Sarah and Gary Gernhart, Stephanie and Nicholas Vondrak, and Suzanne and Brad Hansen.
Marion Koefoot and two of her daughters and their husbands -- Gretchen and Nick Vondrak, and Suzanne and Brad Hansen, attended to recognize the importance of family medicine and acknowledge the influence of a preceptor's family on the medical student experience.
The highlight of the evening included a testimony from nominator and third-year medical student, Derek Hutchins, who spent his rotation with Dr. Brennan. "I feel grateful to have spent my family medicine rotation in St. Paul, and lucky that I got to learn from someone who fully embraces and lives up to the diverse skills of doctors in this specialty."
Written by Ellen Jeffries of UNMC.