Managing a busy practice is no simple task, whether you have one physician or a large group practice, we are here to help. In this section you will find many practice resources links to help you make your practice a success.  
Quarterly Highlight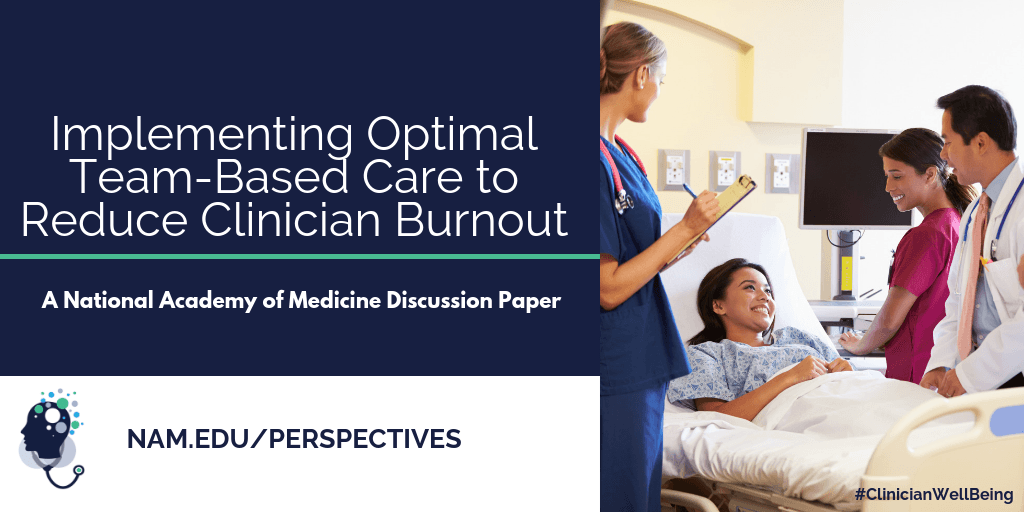 This quarter we are highlighting Team-Based Care. The National Academy of Medicine (NAM) has written an extensive Discussion Paper, "Implementing Optimal Team-Based Care to Reduce Clinician Burnout" regarding the value of Team-Based Care for both patients and the clinician.
Credit:
Smith, C. D., C. Balatbat, S. Corbridge, A. L. Dopp, J. Fried, R. Harter, S. Landefeld, C. Martin, F. Opelka, L. Sandy, L. Sato, and C. Sinsky. 2018. Implementing optimal team-based care to reduce clinician burnout. NAM Perspectives. Discussion Paper, National Academy of Medicine, Washington, DC. https://doi.org/10.31478/201809c. Reproduced with permission from the National Academy of Sciences, Courtesy of the National Academies Press, Washington, D.C.