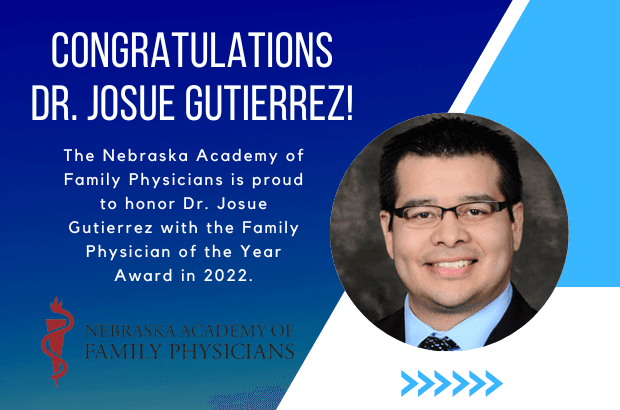 Josue Gutierrez, MD, From Crete, Nebraska, Named the 2022 Family Physician of the Year
The Family Physician of the Year award is given annually to a Family Physician who exemplifies a compassionate commitment to improving the health and well-being of the people and communities throughout Nebraska. Dr. Josue Gutierrez will be honored at the State Capitol on December 5, 2022, as the recipient of this year's award.
Dr. Gutierrez is a family practice physician and owner of Saline Medical Specialties in Crete, Nebraska and owner of Innovative Clinical Solutions, LLC, a managed services organization providing independent physicians with private practice resources. He also is adjunct faculty at the Lincoln Medical Education Program in Lincoln. Dr. Gutierrez completed his undergraduate studies at the University of the Ozarks in Arkansas where he graduated magna cum laude with a Bachelor of Science in Biology and Chemistry. He attended medical school at the University of Arkansas for Medical Sciences and completed residency in Family Medicine at Lincoln Medical Education Program (LMEP). Dr. Gutierrez has had several achievements over the years. These include receiving the "Making a Difference" award from his local health department - award provided to community member engaged in making a healthier community to the 5-county area, establishing the Healthy Community Alliance free medical clinic in 2017 to provide medical services to uninsured and under-insured individuals in a 5-county area, and being selected for the 2017 NMA Leadership Academy. He is a member of the American Medical Association, Nebraska Medical Association, Nebraska Academy of Family Physicians, and a fellow of the American Academy of Family Physicians.
Dr. Gutierrez is currently his local Health Department's Medical Officer as well as serving on their Executive Board. He works with the local Health Department to provide chronic disease care for uninsured and under-insured members of the community. This partnership, labeled Healthy Community Alliance, has yielded life-changing results for its participants, while mobilizing several community stakeholders to participate in the care and service of the area's own community members. He is also currently serving as Legislative Co-Chair for the NAFP and has been extremely active in promoting advocacy efforts for Family Medicine in Nebraska. Dr. Gutierrez enjoys computer programming/building, martial arts, and expressing his culinary skills while grilling. He is married to Carmen Chinchilla, and they have a daughter Rebecca.
Within the nomination packet we received for Dr. Gutierrez, one of his nominators stated "He had the serenity that was needed, giving us his support by calling 911 to go and look for a patient he saw in serious condition, to opening the door of the clinic to do Covid tests. His quick and effective actions made it possible for many of us to hug our relatives today. He never even thought he was putting at risk the most precious thing a human being has, which was his life. He is recognized in our community with the name Dr. G. For him we are all special, he chose to study medicine to help others."
Another nominator said, "Dr. G does not just talk whole body medicine, but his actions exemplify the very meaning of the practice. He recently moved to a new facility so that he could bring other health providers to the campus so that his patients could be better served within a community of healing. It is apparent that his vision is not just to be a 'Doctors Office', but rather a full-service center within the community. He surrounds himself with staff that are multi-cultural, bi-lingual, cheerful and immediately display an attitude of caring. The atmosphere is welcoming, but also as we go there when we are sick, it is one of deep concern and support."
Dr. Gutierrez is an influential member of the Nebraska medical community. His commitment to the field is evident through his dedication to his work and community. The NAFP is thankful for his commitment to serving others.
As the 2022 Nebraska Family Physician of the Year, Dr. Gutierrez becomes a candidate for the 2023-2024 American Academy of Family Physicians (AAFP) Family Physician of the Year. The Nebraska Academy of Family Physicians (NAFP) is a Constituent Chapter of the American Academy of Family Physicians which represents 134,600 physicians and medical students nationwide. Approximately one in five of all office visits are made to Family Physicians. Today, Family Physicians provide more care for America's under-served and rural populations than any other medical specialty. Family Medicine's cornerstone is an ongoing, personal patient-physician relationship focused on integrated care. The Mission of the Nebraska Academy is to promote, support, and serve its members as they strive to improve the health of all Nebraskans.