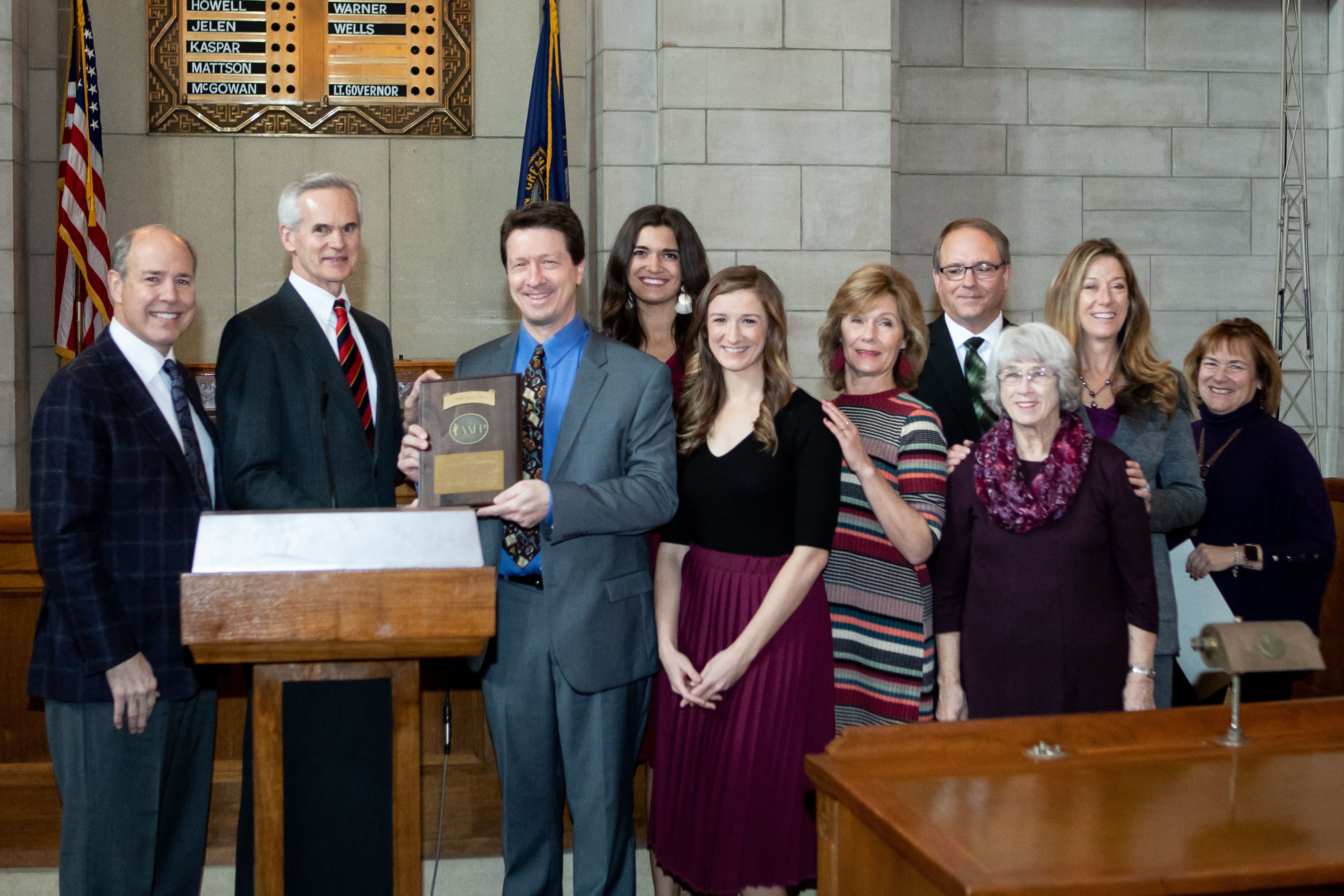 Family Physician of the Year Award
The Family Physician of the Year award is given annually to a member of the NAFP. The purpose is to honor a physician who exemplifies, in the tradition of Family Medicine, a compassionate commitment to improving the health and well-being of people and communities throughout Nebraska. Nominations may be made by any individual who is close to the physician—patients, colleagues, friends, family, etc. Candidates must be AAFP and NAFP members in good standing. A winner will be selected by the NAFP Public Affairs Committee based on the following criteria:
Provides his/her community with compassionate, comprehensive, and caring medical service on a continuing basis.
Serves as a role model to his/her patients, community, Family Medicine colleagues, other health professionals, and especially to medical students and young physicians in training.
Is directly and effectively involved in community affairs and activities that enhance the quality of life in his/her home area.
---
Past Recipients
2022    Josue D. Gutierrez, M.D., Crete
2021    All Nebraska Family Physicians
2020    Robert R. Rauner, M.D., Lincoln
2019   John W. West, M.D., McCook
2018   Patrick A. Hotovy, M.D., York
2017   Robert Rhodes, M.D., Lincoln
2016   Gilbert A. Rude, M.D., Kearney
2015   Joseph S. Miller, M.D., Lexington
2014   Thomas A. McKnight, M.D., Fremont
2013   Randy T. Kohl, M.D., Firth
2012   Kent T. Lacey, M.D., Scottsbluff
2011   David J. Hoelting, M.D., Pender
2010   Fred J. Pettid, M.D., Omaha
2009   Van E. Vahle, M.D., Seward
2008   Mark R. Jones, M.D., Lexington
2007   Kathleen A. Bliese, M.D., Grand Island
2006   David F. Demuth, M.D., York
2005   Jeffrey D. Akerson, M.D., Sidney 
2004   Ron D. Scott, M.D., Kearney 
2003   Gerald W. Luckey, M.D., David City     
2002   Robert L. Wergin, M.D., Milford 
2001   Richard M. Fruehling, M.D., Grand Island   
2000   Richard A. Blatny, M.D., Fairbury 
1999   Dale E. Michels, M.D., Lincoln
1998   Dean R. Thomson, M.D., Nebraska City
1997   John M. McCammond, M.D., Kearney
1996   Steven M. Williams, M.D., Omaha
1995   Charles J. Vlach, M.D., Hartington
1994   Darroll J. Loschen, M.D., York
1993   Eugene L. Sucha, M.D., West Point
1992   Charles F. Ashby, M.D., Geneva
1991   Delwyn J. Nagengast, M.D., Bloomfield
1990   James S. Long, M.D., Alma
1989   K. Don Arrasmith, M.D., Omaha
1988   Dwight L. Larson, M.D., North Platte
1987   Stuart P. Embury, M.D., Holdrege
1986   James E. Ramsay, M.D., Atkinson
1985   No Award Given
1984   William A. Doering, M.D., Franklin
1983   Donald Larson, M.D., Aurora
1982   Rudy Sievers, M.D., Blair