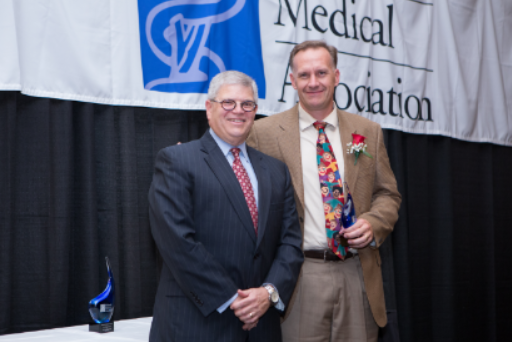 Bob Rauner, MD, received the Nebraska Medical Association's (NMA) 2016 Physician Advocate of the Year Award at the association's 148th Annual Session and House of Delegates which was held in Omaha on September 16, 2016. Nominations for Physician of the Year were submitted by physicians and the general public. This award recognizes physicians for their medical contributions to community and distinguished service to patients.
Dr. Rauner spends his time working on population health projects across Nebraska as President of Partnership for a Healthy Lincoln and also working with Nebraska medical societies on legislative issues. For 15 years he cared for rural and low-income patients as a family physician, the last 7 of those years teaching at a residency program. He received his undergraduate degree in philosophy from Creighton University, a medical degree from the University of Nebraska Medical Center, residency training in Family Medicine at the Lincoln Family Medicine Program and a Master of Public Health degree from Johns Hopkins. He is currently a member of the National Quality Forum's Disparities Standing Committee. His wife Lisa is also a family physician and they have 3 daughters.
The Nebraska Medical Association, founded in 1868, currently represents nearly 3,000 Nebraska physicians, students, and residents. The mission of the Nebraska Medical Association is to serve physician members by advocating for the medical profession, for patients, and for the health of all Nebraskans.