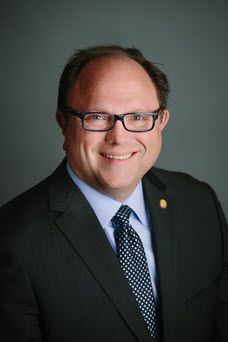 Robert L Wergin MD | Board Chair Address to Congress of Delegates | September 19, 2016
Wow! What a year this has been…
What a three years this has been for me and Family Medicine. I know I sound somewhat redundant in that I have begun all my addresses to this Congress with the term "Wow!" But wow really describes the bright future of Family Medicine as our health care system transforms from a volume based fee-for-service world to a value based delivery system, whatever that is as it develops. Family Medicine's future is bright. Family Medicine's future is huge! Family Medicine will make our health care delivery system great again. I think I have heard that somewhere before.
In thinking about my last address to this Congress of Delegates it has given me some time to reflect on all the things I have learned and experienced representing all of you. Things I have learned:
One of my first experiences was visiting Capitol Hill with the House Majority Leader. I went with the other AAFP Presidents Jeff Cain, MD and Reid Blackwelder, MD. As we sat down in one of the congressman's office his staffer immediately lit into Jeff, "Your organization has supported ObamaCare and you know the congressman can't support this and it will ruin our health care system,"…and this went on for about five minutes very aggressively. When she paused Jeff leaned over and said, "We can see the congressman is frustrated with the Affordable Care Act (ACA) and we would be glad to work with him on improving or amending it to improve it. But what about this flawed SGR formula. How can we help the Congressman address it." He paused and she immediately lit back into us, "You know the congressman cannot support anything to do with ObamaCare and it will bankrupt our country," and again on and on. When she paused Jeff again said, "We again can see the congressman's frustration with the ACA and we would again be glad to work with him to improve or amend it. But again what can we do to help the Congressman address this flawed SGR formula for Medicare." Now this went on back and forth for about 40 minutes and by the end, the conversation it was pretty collegial. As we were leaving the office and walking down the hall I leaned over to Reid and said, "Man that was brutal, that was terrible." Reid looked over and said, "Oh no Bob that went a lot better than last year."
Perspective is important, Cheerful Persistence.
On April 15, 2015 with a vote of 92-8 in the Senate and 392-37 in the House the Sustainable Growth Rate (SGR) was dead and replaced with Medicare Access and CHIP Reauthorization Act (MACRA). It was a joyous day and after it happened I called up past presidents Drs. Jeff Caine, Reid Blackwelder, Roland Goertz, and Glenn Stream and said, "What have you guys been doing all these years 12 years and 17 patches. I am here six months and the SGR is dead.
Timing is everything.
I arrived as a passionate, enthusiastic President-Elect with a lot of stories and ideas for our AAFP media staff. Their advice:
"Remember Bob, Silence is your friend, Embrace your friend."
Sometimes saying nothing says a lot!
We have had a lot of victories. I visited the White House or White House Complex seven times during my presidency. The White House Conference on Aging, The White House Conference on Team Based Care, The White House Conference on Antibiotic Stewardship, and the Stop the Bleed Campaign. We were at the table each and every time, and our voice was viewed as important representing Family Physicians and our patients. I testified in front of the Senate HELP Committee on Electronic Health Records (EHR) interoperability, whatever that is, and in front of the House Energy and Commerce Committee on MACRA preparedness. Each time our voice was heard and felt to be important.
But we did and do face challenges as our health care system delivery and payment system evolve.
Large insurance companies are trying to merge with the Big 5 to become the Big 3. Anthem is trying to buy Cigna for $47 billion dollars, and Aetna is trying to buy Humana for $37 billion dollars. What is the reason they put forward, more efficiency and lower premiums? But what do you see? There are higher premiums and narrower networks of physicians. You see the "Third Grade Bully" syndrome. You remember the third grade play ground where the bully picked out the wimp to pick on, he didn't pick on the biggest toughest kid. When these large insurers come to my office and set down a contract, I tell them I can't sign that, it is well below my cost. Their first question is how big is Milford? When I reply a population of 2,000 people, their response is, well that's the contract take it or leave it. Yet, when that same insurer comes to your office at Denver IPA or Boston IPA and you say we aren't going to sign the contract, their comment is, "Well Dr. Wergin signed it and that's the contract. When you respond, "Well we represent 300,000 lives and we aren't going to sign it." their first response is, "How many did you say? Here let me have that back and they cross out numbers and ask how does that look or this look?" It is like what the great philosopher Mike Tyson said, "Everyone has a plan until they get punched in the nose." But I don't want to talk about that anymore.
Larger and larger health care systems that purchase your practice then send a non-physician business person with a MBA to your office to tell you how many patients you will see, what type of patients you will see, and what procedures you can do. This ultimately is defining who you are as a Family Physician. My only comment is if you aren't sure who you are as a Family Physician don't ask your health care system, ask me. I will tell you who you are and what you can do. But I don't want to talk about that any more.
Electronic Health Records (EHR) contributes to our dissatisfaction with our profession and contributes to burnout. In my office after getting a 16 page note faxed to my office from the Urban Emergency Room (ER), I have to call the patient to see why they were seen. This is all because my system can't communicate with the Urban ER system. There is no interoperability. I have to call the patient and say, "I see on page three your mother is of Mediterranean descent, but I don't think that is why you went to the ER. This is Meaningful Use? I have to admit that I did qualify for Meaningful Use on the last day in the last hour of my 90 day reporting period. My office manager commented you receive credit for 100% or 0% with reporting, no partial credit. She called me that afternoon and said, "You are two patients short on patients sending questions through the EHR portal." Now that is a problem for any practice, but in my practice even a bigger problem in that I practice in a Mennonite community. Mennonites don't have TVs, radios or newspapers, and they for sure don't have any computers. I had to quickly go over a list of patients I had seen and find two Methodists, Lutherans or Catholics and contact them to ask them to send me a question through my office portal. They asked, "Why?" I said to help me meet some arbitrary regulations. I told them they could just ask me about the weather, it doesn't matter what you ask as long it is a question through the office portal. Well I made it, in the last hour of the last day of my 90 day reporting period. My next check had a $75 bonus in it for my efforts. But I don't want to talk about that anymore.
Now you might ask, "What do I want to talk about?" I want to talk about Me!
Six years ago I started my journey in our Academy's leadership when I was elected to the Board. I was excited and passionate about our future. On the second day of my first board meeting my granddaughter Shiloh was born. She arrived in this world as a beautiful passionate baby. She babbled a lot and was difficult to understand, not too dissimilar to my unfocused passionate voice at my first board meeting. Over these six years she has grown into a focused observant kindergartener. She sees things I overlook and succinctly focuses you on a topic, again not too dissimilar to me. My growth parallels her growth.
In closing as my last official act as Board Chair of the American Academy of Family Physicians I am going to propose and approve a resolution:
Whereas this Congress of Delegates, it's delegates, alternate delegates, and chapter executives have had my back as an officer of your Academy like a brother or sister, and
Whereas, this Congress has always provided me with unconditional acceptance like a brother or sister, and
Whereas, when I stumbled and fell I could feel your hand under my arms picking me up to my feet and giving me a voice.
Be it Resolved: As Board chair of the American Academy of Family Physicians I hereby bestow on this Congress of Delegates the title of Wergin family member and all the honors and benefits that that title bestows.
I have to warn you there aren't many. So now it is official, we are all brothers and sisters. As we enter these uncertain times know that we all support and help each other just like family members.
Finally I want to review a lecture I heard four years ago and told in my address as I addressed this congress running for President elect. It was a lecture given by a Marine Colonel who reflected on the very dedicated servicemen that protected him and our liberties and freedom. He mentioned the Military Code that every Private First Class understands as they give an oath to defend our country and our constitution.
He commented that every PFC understands three things:
1) You always accomplish your mission
2) You never leave a comrade behind
3) No matter what happens you never give up
Now in closing, I am going to speak for the officers on this stage and the Board members sitting to my right. WE WILL accomplish our mission of placing Family Medicine as the centerpiece of healthcare delivery in this country. WE WILL leave none of our comrades behind no matter what form our practices take-administrative, academic, urban, rural, it doesn't matter we move forward together. And finally no matter what happens, WE WILL never give up!
Thank you for the experience of my life representing all of you!
God's Speed!