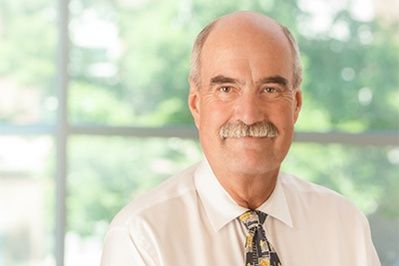 Paul Paulman, M.D., is one of the recipients of the Office of Academic Affairs inaugural Impact in Education Awards.
Innovative Practices in Education Award:
This award recognizes an individual who demonstrates ingenuity, courage and creativity in teaching including innovations in use of educational technology, experiential learning, adoption of simulation and creative use of the classroom, as well as an engaging presentation style.
Name: Paul Paulman, M.D.
Title: Professor, UNMC Department of Family Medicine and '77 UNMC alum
Joined UNMC: 1982
Hometown: Sutherland, Neb.
How has innovation played a part in your teaching career?
Thanks to support from the College of Medicine administration, I've had the opportunity to help develop and implement some innovative curriculum offerings. Some of these offerings have had statewide impact and, I hope, have improved health care for the citizens of Nebraska.
Describe your proudest moment as an educator.
There are several, such as when students say or indicate "Yeah, I get this now!" during or after an educational exercise. It's also very gratifying when a former student or resident tells me that they learned something useful from one of our courses which they could use in their practice. It's also really neat when students or residents smile or laugh while they're actively involved in a simulation or other activity.
What advice would you give other faculty members who want to have an impact in education?
Don't lose track of your good ideas, start with small projects, find colleagues who think like you do and be persistent.
Do you have a favorite quote or philosophy on teaching?
Learn by doing, learn by experience.