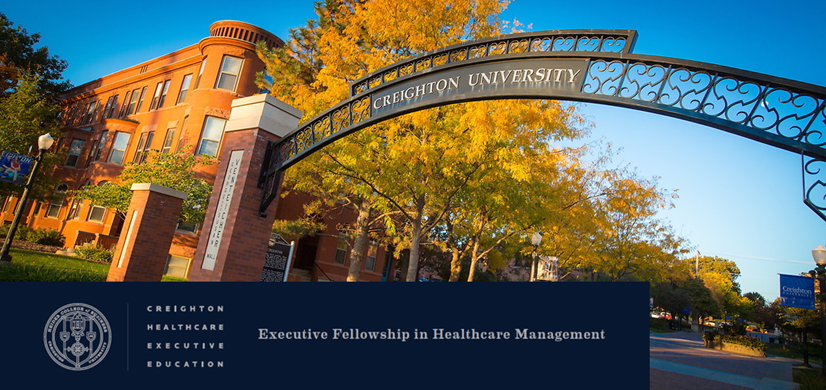 Do your goals for 2021 and beyond involve increasing your business acumen and deepening your leadership knowledge? If so, consider Creighton's Executive Fellowship in Healthcare Management. Applications are currently being accepted for the January – June 2021 cohort.
Executive Fellowship in Healthcare Management
For the experienced healthcare professional who desires a condensed, yet comprehensive overview of the business of healthcare, the Heider College of Business at Creighton University offers an Executive Fellowship in Healthcare Management. Participants will come away with valuable tools and insights necessary to succeed as a leader in healthcare while earning six graduate credit hours and 72 accredited continuing education hours.
The Ideal Fellowship Candidate
The Executive Fellowship in Healthcare Management is best suited for experienced physicians or other advanced clinicians, healthcare executives, or healthcare entrepreneurs who wish to expand their knowledge of business and leadership to advance their career, refresh their knowledge base with current information and industry trends, or manage a private practice or other healthcare business endeavor. 
Manageable Schedule
This rich, six-month fellowship experience will be presented in a convenient, hybrid format of both in-person and online learning.  Participants will be grouped with a cohort of learners with whom they will forge new personal and professional networks to last beyond the completion of the program.
Three times during the program, fellowship participants will attend a three-day residency on Creighton University's Phoenix campus 
16, week-long online modules will help learners develop a deeper understanding of the course materials and serve as a great compliment to the faculty-led lectures
Expansive Curriculum Topics
During the on-campus learning experiences, Creighton's distinguished faculty will present lectures and lead interactive case-learning modules on core topics for healthcare leaders listed below.  Participants will wrap up the program with a capstone project focused on an area of particular interest.
Executive Leadership | Organizational Behavior
Leading Self – Strengths Based Leadership
Healthcare Strategy
Leading Others – Ignatian Leadership Principles
Project Management
The Environment of Healthcare
Quality and Performance Improvement
Business and Clinical Ethics
Conflict Management
Healthcare Finance
Negotiation
Evidence-Based Decision Making
Marketing | Patient Experience
Health Law
Healthcare Technology & Innovation
Healthcare Policy
Change Management
Human Resources Management
2021 Program Dates (Phoenix campus)
January 18, 19, 20
March 15, 16, 17
May 10, 11, 12
Cost : $15,000
Learn more or apply today!  https://gradschool.creighton.edu/programs/professional-development/courses/health/emba-fellowship