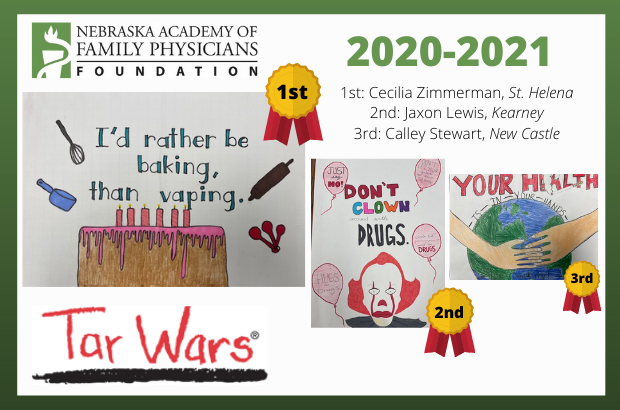 Tar Wars Program History
Tar Wars® is a pro-health, tobacco-free education program and poster contest for fourth and fifth-grade students. Since the program's inception, Tar Wars has been implemented in all 50 states, in 14 countries and has reached more than 8 million children worldwide.
Medical students, teachers and other healthcare providers visit classes to present the 45-minute interactive curriculum that focuses on the short-term, image-based consequences of tobacco use and how to think critically about tobacco advertising. At the conclusion of the presentation, students are encouraged to create posters that reaffirm the positive Tar Wars® message. One poster from each classroom is sent to the NAFP Foundation, where the NAFP members vote to select a statewide winner. The ultimate goal is to discourage tobacco use among the nation's youth through an interactive format, community involvement and education.
1st Place Award Winner - Click Here to View Poster
Cecilia Zimmerman created this year's 2020-2021 award winning poster. She is 10 years old, loves to bake, draw, babysit and read. Cecilia credits her teacher, Mrs. McKae Sudbeck at East & West Catholic Elementary, who taught her how to brainstorm ideas for the poster by thinking of things that she enjoys doing and showing the idea that those activities are better alternatives than drugs or other harmful habits. Since Cecilia loves to bake, this was her inspiration for her poster. Cecilia wanted show responsibility with her award money and deposited it in her savings account. Congratulations again, Cecilia!
2nd Place Award Winner - Click Here to View Poster
Jaxon Lewis, age 11, from Kearney, NE created this year's second place poster. Jaxon likes to play football, baseball, and basketball. He also enjoys camping in the summer and hanging out with his dog, Dixie. Jaxon is currently saving the money he won and is waiting to buy something really special with it. Congratulations again Jaxon!
3rd Place Award Winner - Click Here to View Poster
The third place poster award went to Calley Stewart, age 11 from Newcastle, NE (pictured below). Her poster is pictured above. Calley enjoys many school activities, including playing the tenor saxophone in band and playing on a volleyball and basketball team. She is involved and serves as an officer in her local 4-H club. When creating her poster Calley thought about how smoking effects both the person and the environment around them and she wanted to show both of these things in her poster together. She decided to add her prize money to her farm account to help pay for livestock expenses. Congratulations again Calley!
Thank you again to all of our Tar Wars volunteer presenters and 4th and 5th grade students that took the time to create and enter a poster this year!