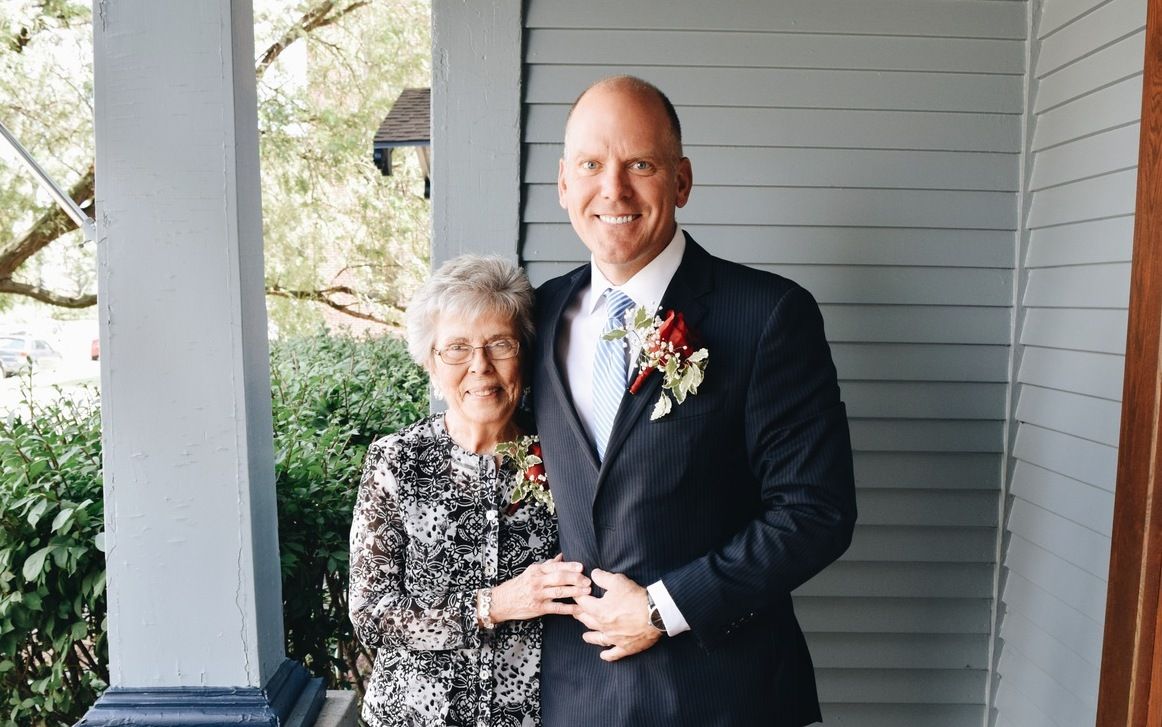 2017 Family Physician of the Year
Robert Rhodes, MD, FAAFP Named the 2017 Family Physician of the Year
The Family Physician of the Year award is given annually to a Family Physician who exemplifies a compassionate commitment to improving the health and well-being of the people and communities throughout Nebraska. Dr. Robert Rhodes was honored at the State Capitol by Lt. Governor Mike Foley on September 6, 2017 as the recipient of this year's award.
Dr. Rhodes began his family medicine journey at the University of South Dakota School of Medicine. After graduating in 1994, he then completed his residency at the Lincoln Family Practice Program and the University of Nebraska Medical Center. After finishing his residency in 1997, he began practicing in Lincoln, Nebraska. During his time in Lincoln, Dr. Rhodes has been heavily involved in the medical and greater community. He has served on over fifteen boards, (medical, faith-based, and financial) and is currently the President-Elect for the Nebraska Medical Association. In addition, Dr. Rhodes is a volunteer physician for the University of Nebraska Athletic Department and the Lincoln Marathon as well as serving as the Primary Care Team Physician for the Lincoln Saltdogs. Dr. Rhodes also volunteers his time to be an instructor at the USD Sanford School of Medicine and UNMC. 
Beyond this, Dr. Rhodes is involved with multiple professional organizations including the American College of Physician Executives, the American Medical Association, and the Nebraska Academy of Family Physicians. Along with achieving many accolades through the years, he even earned his Family Medicine Degree of Fellow in 2002. Other notable accomplishments include NMA's Young Physician of the Year Award in 2000, a Midland's Business Journal's 40 Under 40 award winner in 2007, and one of 50 Heroes within 50 States recognized by Money Magazine in 2014. 
In addition to his clinic work, Dr. Rhodes has also created innovative technology to benefit the medical community. In 2012, he created "InjuReplay", which is a sports medicine app designed to familiarize the user with the human body, and highlight some of areas prone to sports-related injuries. In addition to this, Dr. Rhodes co-founded miTRAX in 2014. miTRAX is another easy to use mobile app that brings together patient education through 3D animation, high-definition videos, and documents. 
Another noteworthy accomplishment of Dr. Rhodes is his creation of and continued involvement with Clinic with a Heart, a free healthcare clinic in Lincoln. After returning home from a medical mission trip to Mexico in 2002, Dr. Rhodes and volunteers from St. Mark's United Methodist Church asked themselves, "If we can provide free healthcare in Mexico, why wouldn't we provide free healthcare in our own backyard?" Following this realization, Rhodes helped take this vision into immediate action. Since 2003, this non-profit organization has served patients free of charge and on a first come/first serve basis. 
Within the nomination packet we received for Dr. Rhodes, one of his patients described him as "not only a brilliant physician, but an extraordinarily personable and caring man." Another nominator commended his ability to "take his inspiration and courage and turn it into a movement of compassion and healing". Lastly, someone wrote, "when he sees a need or sees someone struggling, he is compelled to help. His heart is huge!" 
Dr. Rhodes is an instrumental member of the Nebraska medical community. His commitment to the field is evident through his every move and endeavor. The NAFP is thankful for his participation in the preceptor program, involvement in state legislation, and participation in volunteer NAFP opportunities. 
As the 2017 Nebraska Family Physician of the Year, Dr. Rhodes becomes a candidate for the 2018-2019 American Academy of Family Physicians (AAFP) Family Physician of the Year. The Nebraska Academy of Family Physicians (NAFP) is a Constituent Chapter of the American Academy of Family Physicians which has over 124,000 physicians and medical students nationwide. It is the only medical society devoted solely to primary care. Approximately one in four of all office visits are made to family physicians. Today, family physicians provide more care for America's underserved and rural populations than any other medical specialty. Family medicine's cornerstone is an ongoing, personal patient-physician relationship focused on integrated care. The Mission of the Nebraska Academy is to promote, support, and serve its members as they strive to improve the health of all Nebraskans.