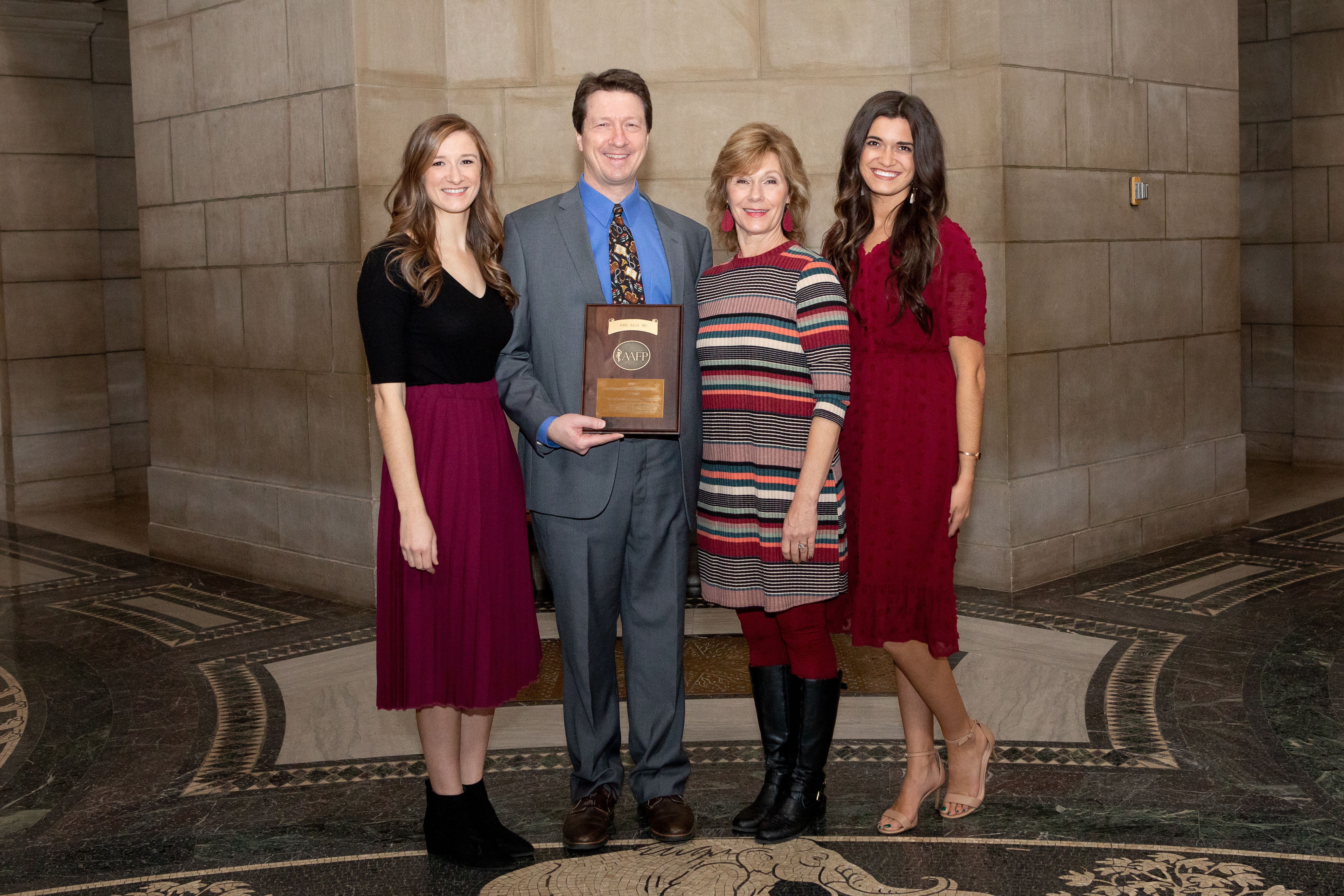 John West, MD, From McCook, Nebraska, Named the 2019 Family Physician of the Year
The Family Physician of the Year award is given annually to a Family Physician who exemplifies a compassionate commitment to improving the health and well-being of the people and communities throughout Nebraska. Dr. John West was honored at the State Capitol by Lt. Governor Mike Foley on December 16, 2019 as the recipient of this year's award.
In 1979, Dr. West started his Pre-Med studies at the University of Nebraska-Lincoln with completion of a Bachelor's degree in Biology from Revelle College at the University of California-San Diego in 1983.  He returned subsequently to Nebraska and completed a Masters degree in Pharmacology at UNMC prior to receiving his Doctor of Medicine degree from the College of Medicine at UNMC in 1990.  Dr. West completed his Family Practice Residency at St. Joseph Medical Center, which is now known as the Via Chrsti Family Medicine Program in Wichita, Kansas.  After finishing his residency in 1993, he began practicing in York, Nebraska at the York Medical Clinic for 5 years.  Later, Dr. West moved to practice in McCook, Nebraska at the McCook Clinic, where he is currently practicing today.  During his time in McCook, Dr. West has been heavily involved in the medical and greater community. He has served on boards for medical, community and faith-based organizations.  He currently serves as the Medical Director for the only nursing home in McCook.
He is heavily involved with the Nebraska Academy of Family Physicians and Nebraska Academy of Family Physicians Foundation, serving multiple positions over the last twenty-five years including President, Vice-President, President-Elect, Board of Directors, Foundation Board President & Vice President and Scientific Affairs Committee.
Dr. West has been involved with many committees for the Community Hospital in McCook over the past 17 years and is currently serving on the Patient Care Evaluation Committee.
He is the Liaison to the Medical Director of the Nebraska Department of Corrections Work Ethic Camp.
He presently serves as the Medical Director for the Hillcrest Nursing Home.
Dr. West is involved with many philanthropic organizations including: NAFP Foundation, St. Alban's Episcopal Church, Fellowship of Christian Athletes, American Diabetes Association, American Heart Association, St. Alban's Youth Scholarship and the McCook Community Food Pantry.
He has been a longtime preceptor and believes in mentoring young physicians along their Family Medicine journeys.
In addition, to all of this work Dr. West has been on the COPIC Claims Committee for multiple years as a committee member and chairman.  He has also served on COPIC grants and underwriting committees.
Within the nomination packet we received for Dr. West, one of his nominators stated "Dr. West has an unbridled passion for the practice of Family Medicine and the Nebraska Academy of Family Physicians.  He is an active advocate in promoting Family Medicine and firmly believes that there is no other specialty that is more important in keeping people healthy and well."
Dr. West is an influential member of the Nebraska medical community. His commitment to the field is evident through his dedication to his work and community. The NAFP is thankful for his commitment to serving others.
As the 2019 Nebraska Family Physician of the Year, Dr. West becomes a candidate for the 2020-2021 American Academy of Family Physicians (AAFP) Family Physician of the Year. The Nebraska Academy of Family Physicians (NAFP) is a Constituent Chapter of the American Academy of Family Physicians which represents 134,600 physicians and medical students nationwide. Approximately one in five of all office visits are made to Family Physicians. Today, Family Physicians provide more care for America's under-served and rural populations than any other medical specialty. Family Medicine's cornerstone is an ongoing, personal patient-physician relationship focused on integrated care. The Mission of the Nebraska Academy is to promote, support, and serve its members as they strive to improve the health of all Nebraskans.